Matchbook Matching
Identity Resolution in a Privacy-First Adtech World
ABOUT
In today's Ad Tech landscape, advertisers and marketers are having trouble connecting the dots when trying to reach their customers across fragmented marketing channels.
Enter Matchbook Matching, an identity resolution tool for Brands and Adtech companies that reconciles their fragmented first-party data so that they can reach their audience across devices.
Matchbook Matching returns highly accurate and targetable data, enhancing cross-platform/profile-based targeting and offline to online attribution capabilities.
Billions of aggregated, consented, and device-derived observations are used to build our Location, IP, and MAID-centric databases, helping advertisers and marketers create a consistent and engaging experience for your customers by reaching them across devices.
MATCHBOOK DATA PATHWAYS
Matchbook Matching Keys off Your 1st party data to Return Associated Digital Identity Signals
Physical location to IP: Outputs IP's most recently observed within close proximity to a target location
IP to MAID: Outputs MAIDs with the most observations on an IP MAID to IP: Outputs IPs a MAID has connected through the most.
Currently available in the United States, Australia, Canada, and UK with plans for global expansion, Matchbook Matching provides clear and actionable insights that empower clients across the ad ecosystem to make data-driven decisions on how to best connect with their most valuable audiences.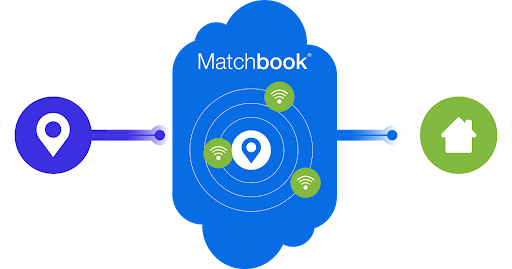 FEATURES
Use-Cases

ID Graph Enrichment
Audience Extension

Cross-platform targeting / retargeting

Account-Based Marketing
And More...
CUSTOMIZATION
Parameter Customization
Matchbook Matching allows for parameter customization to fit customer data needs.
Look-back timeframes
Tailor to match your unique use case and opportunity window for in-market consumers.
Adjust the Number of Matched Responses
Adjust to target top propensity connected devices to reduce noise.
Tailor the Threshold of Observations
Target only those connections with the most seen observations to eliminate devices with less affinity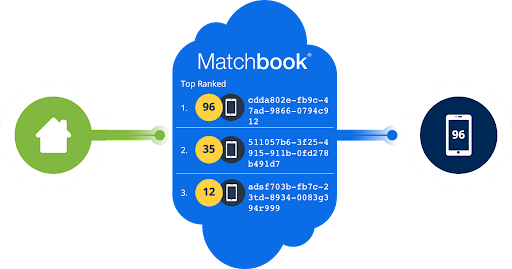 OUR DIFFERENCE
UNRIVALED DATA EXPERTISE
Matchbook Matching leverages unrivaled data expertise in the industry: Digital Element's industry-leading IP intelligence datasets which helps marketers know how IPs are allocated, how often they turn over, and how that differs based on the location and the ISP; and Outlogic's data, currently the industry's largest consented aggregated data panel. With our combined data expertise, we provide more opportunities for marketers to connect the dots across the user journey.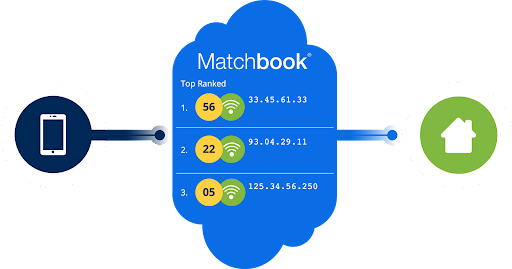 Availability
Our Data is Available to License
Via Data Exchanges, Platform Partnerships, or directly to you, we've made getting the data you need safe and easy.